Now that students are preparing to head back to school, it is important for parents to make themselves aware of a major problem their children may face as the new school year starts. That problem is cyberbullying.
Cyberbullying is a lot different from – and can be more devastating than – other types of bullying that parents may be more familiar with. It involves the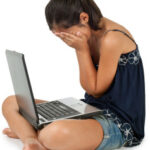 use of electronic devices and technology to spread hurtful messages, vicious rumors, embarrassing pictures, and lies to a wide audience. Within seconds, a cyber bully can send hundreds or thousands of text or email messages, make posts to social media and spread destructive gossip throughout the community.
Protecting a child from cyberbullying can be a difficult task. Cyberbullies hide behind the anonymity of the internet. Many believe that since their identity can be hidden relatively easily from an intended victim, it gives them free rein to act in a vicious manner without having to worry about repercussions. This is simply not true. Individuals who inflict this type of harm or cause injury to a child in this fashion need to be held accountable for their actions and you, as a parent, can help.
Cyberbullying Facts and Statistics
What makes cyberbullying such a vicious act is that it can be committed any time of day, any day of the week. Before cyberbullying became prevalent, a bully had to confront his or her victim in person. Now cyberbullying can be done anonymously and reach a broad audience within seconds. Once messages have been sent, it is next to impossible to undo the damage.
What Parents Can Do to Prevent Cyberbullying
Since your child may not be forthcoming about being victimized by a cyber bully, parents should pay attention to some of the common signs. It is not unusual for victims of cyberbullying to be reluctant to go to school, want to ditch or skip school entirely, start using drugs or alcohol, to begin getting poor grades, become more withdrawn, and have lower self-esteem or begin experiencing health problems.
If you are worried about your child being victimized by cyberbullies, or you want to address instances of cyberbullying that your child has suffered, the following are nine actions you can take:
Keep track of your children's online activities. Establish and maintain an open dialogue with your children so you know what sites they visit, who they are chatting with and what is being said. If necessary, install parental controls, but always be upfront about it being part of your job to monitor their activity so as to help keep them safe.
Talk to your children about cyberbullying.  Make them feel comfortable letting you know of about cyberbullying or unethical activities, whether it involves them or someone they know. Your children need to understand that you are there to support them.
Ask for your children's passwords, which you agree to only use in case of an emergency. Make sure to maintain trust by not invading their privacy, so they will continue to be open with you about these issues.
Establish rules. Get on the same page about the online sites your children are allowed to visit, what they can do online, what information can be shared and what information should never be shared, and the importance of protecting their identity. Work out restrictions and penalties for violations.
Make yourself aware of and help enforce school rules on cell phones, tablets, and other digital devices. Find out if your children's school has policies in place to minimize the risk of cyber bullying and the processes in place to handle children who engage in this behavior.
Keep a complete record of any instances of cyberbullying. Screenshots, emails, text messages and social media posts in which cyberbullying occurred should be printed and saved.
Report it! Immediately report the cyberbullying to your cell phone or internet service provider, as well as any social media sites on which the activities occurred. If the cyberbullying is taking place on school websites or among students, be sure to let the school know and keep them on alert for cases of physical bullying as well.
Block the cyberbully. Make sure you block the cyberbully so no messages from that individual can be sent directly to your children. If you notice others forwarding such messages, talk to your child about either blocking them or asking them not to forward hurtful messages.