Over the years, Indiana has seen its fair share of bus accidents, including one at the end of December 2014 along a toll road near Hammond, Ind. According to WishTV and USA Today, this makes the third collision involving the Megabus bus and coach company in the span of only a few months.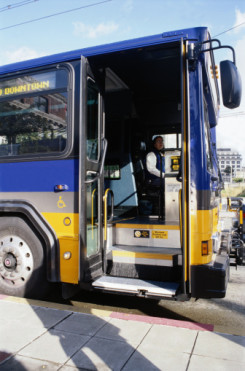 Fortunately, this bus accident did not result in any fatalities. A person from one of the four vehicles involved in the collision who was carried away on a stretcher by emergency personnel sustained the only reported injuries.
Individuals in one of the previous Megabus accidents did not fare quite as well. At least 26 people sustained injuries in that accident, when the double-decker bus overturned while en route to Louisville, Ky. According to police reports, the bus driver apparently lost control when attempting to maneuver the bus in slick road conditions. Speed may have also been a contributing factor.
Common Causes of Bus Accidents in Indianapolis
Parents count on school bus drivers to keep their children out of harm's way by doing whatever they can to avoid being involved a school bus accident. People who ride other types of buses also count on their bus drivers to get them to their intended destination safely.
As is true with any type of vehicle, there are many reasons a bus could be involved in an accident resulting in serious injury or death. Some of the most common causes of bus accidents in Indianapolis are:
Bus driver distractions, such as texting, cell phone use, rowdy passengers
Fatigue due to lack of sleep, long schedules, insufficient breaks and hours of service violations
Driver error, often as a result of inadequate training or improper employment screening procedures
Speeding
Aggressive driving or road rage
Alcohol intoxication or being under the influence of prescription drugs or illegal drugs
Driving too fast for conditions
Failure to properly maintain the vehicle by conducting routine inspections, completing standard maintenance checks and making timely repairs
Faulty or damaged equipment
Injuries Often Sustained by Bus Accident Victims
While a bus driver has a seat belt to protect him or her in the event of an accident, many buses are not equipped with passenger seat belts. As a result, passengers can sometimes be thrown around or ejected as a result of a bus collision. This means injuries from a bus accident are more likely to be catastrophic injuries, as compared to those injuries sustained in other types of vehicle-related accidents.
The most common types of injury sustained by bus accident victims include:
Injuries to children
Cuts and lacerations
Broken bones
Burn injuries resulting in scarring or disfigurement
Neck and back injuries
Spinal cord injuries
Brain injuries as a result of significant brain trauma
Wrongful death
Injured in a Bus Accident? Our Firm Can Help
Bus accident injury victims are often eligible to seek financial compensation to cover both economic and non-economic damages. The damages pursued will include the costs of medical bills, lost wages, both current and future, rehabilitation treatments, pain and suffering, loss of consortium, loss of enjoyment and more. Bus accident victims will be required to prove negligence on the part of the bus driver, the bus company, the maintenance staff or other associated party as a critical point in a case initiated to pursue damages. We are very familiar with establishing negligence and can discuss this matter with you personally.
Call Sevenish Law Firm today at 317-720-3229 to schedule your free, no-obligation consultation and review of your case.