You notice that your young child does not appear to be himself or herself today. When you dropped your child off at daycare, he or she was happy and bubbly, eager to start a new day of adventure and learning.
However, when you picked your child up from daycare, he or she appeared sullen and downcast. He or she spoke of having a "bad day" and being in trouble with one of the teachers. Your child may show other peculiar signs and behaviors such as:
Having strange red marks or bruises on his or her body.
Withdrawing from family activities or not wanting to be asked about daycare.
Unexplained fits of crying or outbursts of anger, especially when the daycare is mentioned or the child is being taken to daycare.
It may be hard to believe, but your child may be the victim of abuse or mistreatment at his or her daycare. Your swift action and attention could prevent your child from suffering additional abuse and mistreatment at the hands of daycare staff.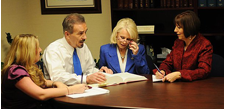 An Indiana child injury attorney can also help you protect and assert your legalrights and hold those responsible for mistreating your child accountable for their actions.
Warning Signs of Daycare Abuse Can Be Easy to Miss
Parents like to think that they would be instantly aware if their child was being abused or mistreated at daycare. Sadly, however, it is easy for parents to miss or rationalize away early warning signs that their child is being mistreated.
It is important for parents to know what signs to look out for so that any abuse or mistreatment can be quickly stopped and reported.
Common warning signs of daycare abuse or mistreatment include:
A child who reports mistreatment or abusive behavior to you (a common misperception is that children lie about abuse or mistreatment when in fact very few do).
A child who is scared to be left alone with a daycare provider or babysitter, or who becomes angry or resistant whenever you attempt to take the child to daycare.
A child who returns to your care with unexplained bruises, marks, injuries (especially if such injuries occur repeatedly), or who returns to your care crying or upset.
A child who exhibits sudden mood changes at home.
You should also be concerned if the daycare provider or employee appears to:
Be unable to provide satisfactory explanations for injuries, marks, or bruises on your child.
Talks about your child poorly or does not seem to pay attention to your child.
Appears strict or harsh if your child misbehaves.
What to Do if You Suspect Child Abuse at Daycare
If you notice one or more warning signs of daycare abuse, it is important to take swift action in order to either confirm or deny your suspicions and protect your child.
Consider taking the following actions:
Immediately remove your child from the daycare and prevent the potential abuser from having access to your child.
Take your child to a doctor or other qualified health professional and have this person examine any marks, bruises, or injuries your child may have. The doctor or medical professional may be able to express an opinion as to when the injuries might have occurred and/or how your child was injured (i.e., by what mechanism—a hand, a belt, etc.).
Speak with other parents whose children attend the daycare to determine if their children have been abused or witnessed your child being abused. These witnesses may be able to help you if you choose to file a child injury lawsuit and seek compensation from the daycare and/or its employees.
Consider contacting local law enforcement and/or the Indiana Child Protective Services office and have these agencies investigate the daycare and its employees. These agencies can uncover valuable information that may be useful for a criminal prosecutor and/or a civil lawsuit. Note that if you take your child to the doctor and the doctor suspects abuse, the doctor may contact these agencies as a "mandated reporter."
Record your observations as soon as possible: When did you notice a change in your child? What did your child say concerning the daycare? What marks did you notice? This could be important information if you choose to file a child injury lawsuit later.
What Legal Recourse Do I Have if My Child Was Abused or Mistreated at Daycare in Indiana?
In addition to criminal charges that can be filed against the daycare provider and/or employee, you may also have a right to sue both the individual who abused or mistreated your child, as well as sue the daycare itself:
If the individual acted carelessly and injuries resulted to your child, that individual may be held responsible for the harm he or she caused to your child. Depending on the circumstances, you may also be entitled to recover financial compensation for your own mental anguish. When the individual acted with some measure of intent or malice, punitive damages—that is, a money award designed to punish the individual for his or her wrong behavior—may also be able to be recovered.
The daycare itself may also be responsible, in part or in whole, for the losses and injuries your child suffered if it acted negligently or recklessly. For instance, if the daycare did not properly screen its employees and the employee ended up hurting your child, the daycare may be liable. Or if the daycare should have known its employee was abusing your child but did not take any remedial measures, the daycare can be held responsible.
Also, if the daycare's behavior was reckless or intentional, punitive damages may also be available.
Compensation may be available through a civil lawsuit to compensate you for the losses and expenses your child sustained, such as:
Medical bills and doctor expenses for treatment for your child's injuries.
Time you missed from work having to care for your child.
Your child's mental pain and suffering.
Any mental therapy your child may need to recover from the abuse.
Other losses and expenses attributable to the abuse or mistreatment.
If your child has been injured, abused, or mistreated by an Indiana daycare, protect your child and your legal rights by contacting Sevenish Law Firm, right away.