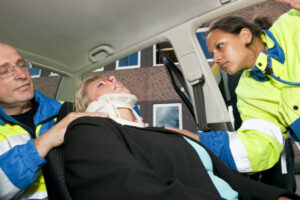 Data gathered from The National SCI Statistical Center indicate that each year, approximately 12,500 people are involved in accidents or incidents in which they sustain spinal cord injuries. This is
a rate of 40 new cases per 1 million U.S. population.
While the average age of victims at the moment of injury has risen from 29 in the 1970s to 42 in recent years, men continue to be the ones most likely to experience a spinal cord injury, with statistics indicating 79 percent of SCIs occur in males. The length of SCI victims' hospital stays has declined from 24 days in the 1970s, to 11 days in recent years. The same trend can be seen in time spent in rehabilitation centers. Some of this is likely attributable to medical advancements in treatment and care.
Spinal Injury Statistics
Other spinal cord injury statistics show that:
Non-Hispanic Caucasians make up 63 percent of SCI victims.
African Americans account for 24 percent of spinal cord injuries, despite making up only 12 percent of the population.
Incomplete tetraplegia or quadriplegia (paralysis in all four limbs stemming from a spinal cord injury above the first thoracic vertebra) is the most frequently observed neurological category among SCI victims (45 percent).
Incomplete paraplegia (impairment or paralysis of the lower limbs) is seen in 21 percent of cases.
Complete paraplegia occurs in 20 percent of cases, and complete tetraplegia occurs in 14 percent of cases.
Just 12 percent of people with SCI are gainfully employed a year after their injuries, and 34 percent are holding down jobs 20 years later.
Some of the most surprising SCI statistics involve the yearly and lifetime costs that result from the injuries. Even without considering lost wages, fringe benefits or lost productivity, an individual who sustains loss of motor function at any level can expect to pay at least $342,112 in their first year for healthcare and living expenses, and $41,544 each following year. The costs are much higher for many victims.
Over the course of their lives, SCI victims can expect to pay at least: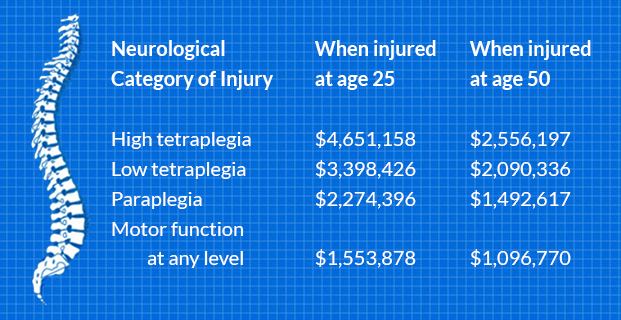 Causes of Spinal Cord Injuries and Paralysis
Although any fall or significant impact to a person's back or neck can result in spinal cord injuries and paralysis, the Christopher & Dana Reeve Foundation reports the leading cause of SCIs is
work-related accidents. According to the Foundation's breakdown, 1.275 million people living are with SCIs as a result of:
Accidents while working: 362,000 (28 percent)
Motor vehicle accidents: 311,000 (24 percent)
Sporting or recreational accidents: 206,000 (16 percent)
Falls: 112,000 (9 percent)
Unknown causes: 109,000 (9 percent)
Violence: 57,000 (4 percent)
Birth defects: 34,000 (3 percent)
Natural disaster: 8,000 (1 percent)
Other causes: 76,000 (6 percent)
How to Minimize Your Risk of Injury
Not all SCIs are avoidable. In many instances, an individual may sustain a spinal cord injury in an accident as a result of another person's negligence, carelessness or reckless behavior. While accidents such as these cannot always be prevented, actions can be taken to minimize your risk of sustaining a spinal cord injury.
Workers who use the proper equipment, adhere to posted safety procedures and exercise caution while on the job are less likely to be involved in a workplace accident. Drivers who wear their seatbelts at all times, don't get behind the wheel after they have been drinking and do what they can to avoid driver distractions will have a much greater chance of being able to avoid a serious or fatal collision. Athletes who wear adequate protective gear, are properly instructed and refrain from reckless behavior can significantly reduce their chances of suffering a temporary or permanent SCI.
What You Can Do if You or Someone You Love Has Sustained a Spinal Cord Injury
If you or a loved one has sustained a spinal cord injury, particularly if that injury was caused in an accident due to no fault of your own, you should retain legal counsel at once. When another person's negligence leads to serious injury or death, his or her victim may be eligible to seek damages to help cover medical expenses, loss of income, as well as other economic and non-economic costs from the accident.