While Indianapolis fell far short of making the list of the 10 U.S. cities with the worst traffic – in fact The Fiscal Times ranked it as one of the cities with the least amount of traffic – Indianapolis is not without its fair share of dangerous intersections. The Indianapolis Metropolitan Police Department (IMPD) and the local Sheriff's Department are called out to investigate around 30,000 vehicle collisions per year, according to WISH-TV.
Some of these Indianapolis car accidents take place in lightly traveled areas, but it is far more common to see accidents at busy intersections or on our most traffic-clogged roads.
Generally speaking, the more vehicles that use the roads and intersections, the greater the likelihood is of an accident.
Most Dangerous Metro Area Intersections
Many motorists use the streets, highways and other roads in and around the Indianapolis metro area during their daily commute.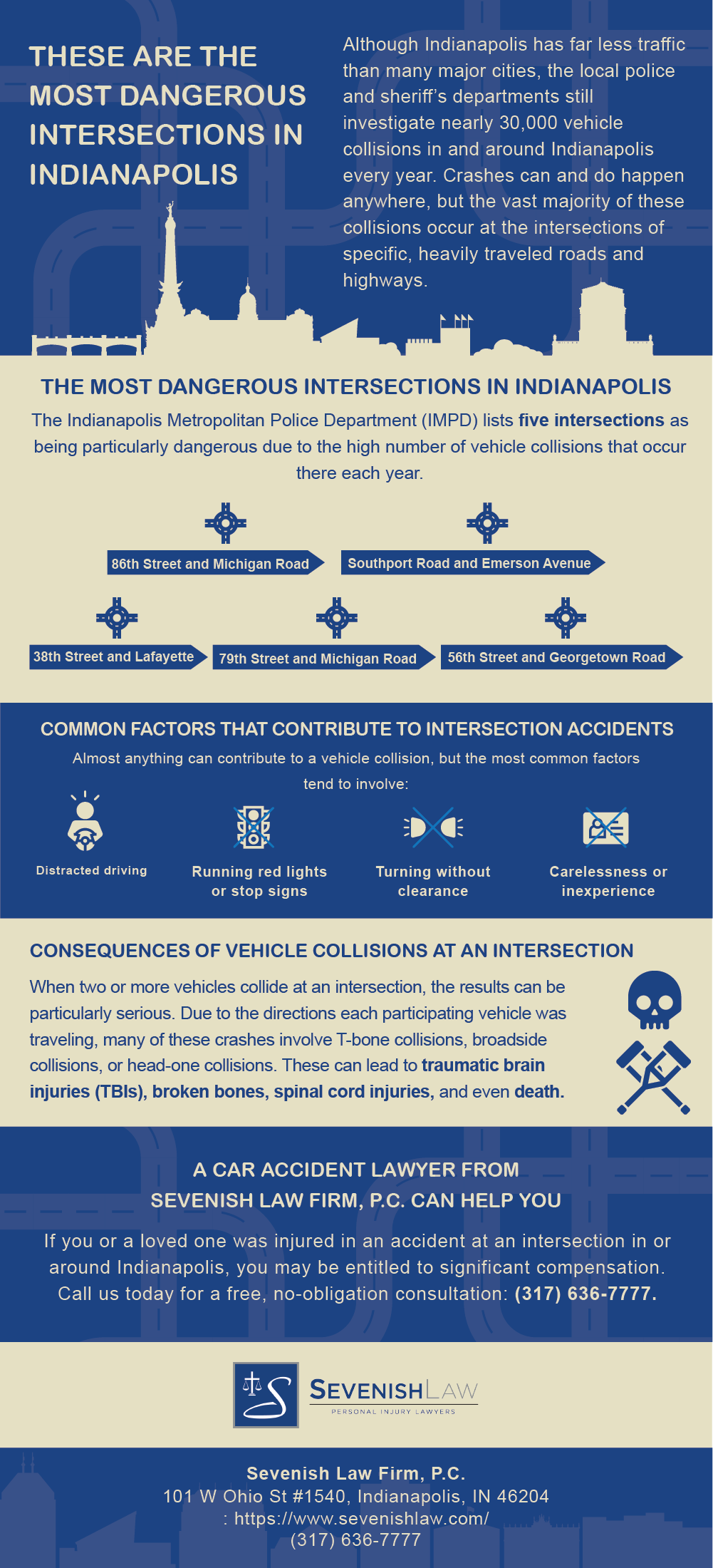 Although not all of the intersections in the metro area are hot spots for accidents, WTHR Channel 13 claims the following intersections are on the radar for being the most dangerous in the Indianapolis metro area:
Albany Street and Madison Avenue (Indianapolis)
Rockville Road and Girls School Road (Indianapolis)
82nd Street and Allisonville Road (Indianapolis)
Fall Creek Parkway North Drive and East 38th Street (Indianapolis)
Raymond Street and Shelby Street (Indianapolis)
Emerson Avenue and Southport Road (Indianapolis)
86th Street and Michigan Road (Indianapolis)
86th Street and Ditch Road (Indianapolis)
Stop 11 Road and Madison Avenue (Indianapolis)
I-65 and I-70 (Indianapolis)
38th Street and Lafayette Road (Indianapolis)
16th Street and Georgetown Road (Speedway)
16th Street and Crawfordsville Road (Speedway)
Cunningham Road and Crawfordsville Road (Speedway)
38th Street and Post Road (Lawrence)
Pendleton Pike and Post Road (Lawrence)
Shadeland Avenue and Pendleton Pike (Lawrence)
I-465 and Pendleton Pike to 71st Street (Lawrence)
Emerson Avenue and I-465 (Beech Grove)
Emerson Avenue and Thompson Road (Beech Grove)
Emerson Avenue and Main Street (Beech Grove)
Washington Street and Mitthoefer Road (Cumberland)
Post Road and Washington Street (Cumberland)
According to WTHR, the IMPD's watch list includes three of the five intersections listed as having the highest crash rates in Marion County (86th Street and Michigan Road, Southport Road and Emerson Avenue, and 38th Street and Lafayette), accounting for at least 143 collisions causing serious injury or death. The other two intersections are 79th Street and Michigan Road and 56th Street and Georgetown Road.
Common Factors Contributing to Intersection Accidents
Any number of factors could cause two or more vehicles to collide in an intersection. A few of the more common factors contributing to Indianapolis intersection accidents include driver distractions, traffic violations (running or attempting to run a red light), turning without having sufficient clearance or a direct line of sight, inexperience or other forms of careless or negligent driving.
Because vehicles cross paths at intersections, these are often some of the most serious crashes. T-bone or broadside collisions and head-on crashes frequently happen at intersections, and these accidents often result in serious injuries such as traumatic brain injuries, spinal cord injuries, severe fractures, internal injuries and even death.
If you have been hurt in an accident at an intersection in Indianapolis or elsewhere in Indiana and someone else was at fault, you should call us at 
800.278.9200
. One of our experienced 
personal injury attorneys
 will be happy to speak with you.  You may be entitled to significant compensation.