Seat belts are one of the most basic and effective safety features motor vehicles have to keep drivers and passengers safe. According to the Centers for Disease Control and Prevention (CDC), just wearing a seat belt can reduce the risk of suffering serious or fatal accident-related injuries by close to 50 percent.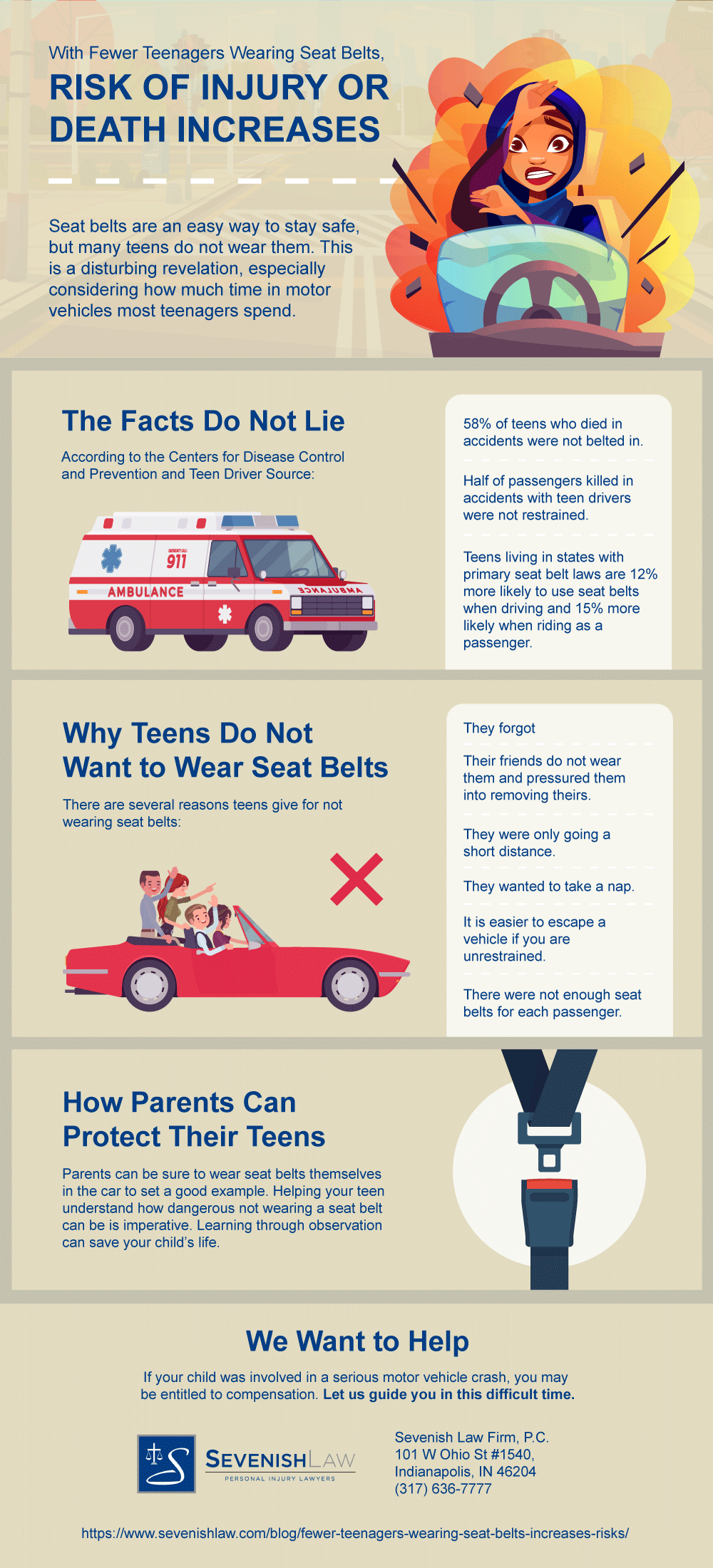 What is startling is that even though car accidents and are the leading cause of death among teenagers in the United States, fewer teenagers are opting to wear seat belts, dramatically increasing their risk of personal injury, even resulting in death.
Seat Belt Use Statistics Among Teen Drivers and Passengers
Out of all the teen drivers killed in vehicle-related accidents in recent years, up to 58 percent were not wearing a seat belt at the moment of impact, according to Teen Driver Source and the CDC. In addition, half of the passengers killed in motor vehicle collisions in which a teenager was driving were not buckled in.
Taking into consideration all age groups, teenagers are the least likely to wear seat belts. Females are 10 percent more likely to wear seat belts than males. People who live in rural settings wear seat belts only 78 percent of the time, whereas those who live in suburban areas use seat belts 87 percent of the time.
Teens living in states, such as Indiana, with primary enforcement seat belt laws are 12 percent more likely to wear a seat belt when driving and 15 percent more likely to wear a seat belt when riding as a passenger in a vehicle.
Why Teens Don't Like to Wear Seat Belts
Many teens don't like to wear seat belts because they feel wearing a seat belt isn't "cool." Others complain that seat belts are uncomfortable, or using one will wrinkle or ruin their clothes.
Other reasons teens may give for not wearing seat belts include:
They forgot.
They were only going a short distance.
Their friends don't wear seat belts.
Peer pressure.
The vehicle didn't have enough seat belts for everyone.
It's easier to escape the vehicle if you aren't buckled in.
They wanted to rest or fall asleep.
With reasons such as these, it is clear that many teenagers fail to understand the importance of wearing a seat belt every time you drive or are a passenger in a motor vehicle. This is a safety feature which must not be ignored.
What Parents Can Do to Keep Their Teens Safe
Following these Indianapolis car accident attorney teen driver tips can help parents keep their teens safe, even when they are not driving with them. As a parent, one of the most important steps you can take is setting a good example. Always buckle up before you begin driving, and make sure all of your passengers have done the same.
Educating your teen about the importance of seat belt use can also help your child gain an understanding of this potentially life-saving safety mechanism. Put in writing the rules and driving restrictions on which both you and your teenager agree. Parents should also continue to remind teenagers that driving without a seat belt is against the law and enforce strict punishments, such as loss of driving privileges, if their a son or daughter is ever found to be driving without being buckled in.
Has your teen been injured in an automobile accident? Request your free car crash informational ebook "Indiana Crash Book: An Insider's Guide For Indiana Drivers And Passengers" or call us today at 800.278.9200 for your no obligation consultation.