In the State of Indiana, the National Highway Traffic Safety Administration (NHTSA) reports car accident fatalities occurred at a rate of 1.00 per each 100 million vehicle miles traveled during 2013. The average rate of fatalities across the country that same year was 1.09. In total, 783 people lost their lives in car accidents throughout Indiana.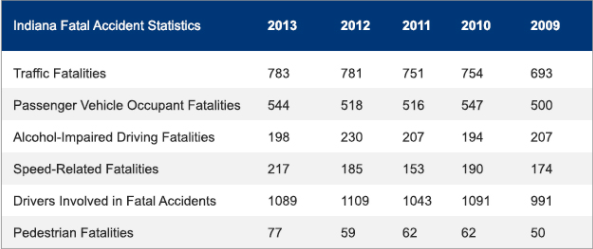 The NHTSA also ranked Marion County, which includes Indianapolis, as having the most fatalities each year between 2009 and 2013. Lake County had the second highest number of fatalities per year.
Indianapolis Car Accident Fatalities
According to the most recent accident statistics from City-Data.com, 8.3 fatal accidents took place in Indianapolis for every 100,000 members of the population in 2013. During this same period of time, the average number of fatal accidents (for every 100,000 people) in the state of Indiana was 18.4. Fatalities (per 100,000 population) averaged 20.3 in Indiana and 9.2 in Indianapolis. One of the most disheartening statistics involves the number of pedestrian accidents involved in fatal accidents (per 100,000 people) in Indianapolis, which was almost the exact same as the average for the entire state.
One positive note is the reduction in the number of fatal accidents, vehicles involved in these accidents, the involvement of drunk drivers and the total number of people involved in fatal accidents between 2012 and 2013.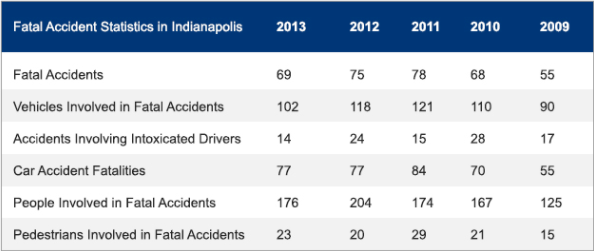 Fatal accident statistics gathered between 1994 and 2013 reveal May and July, followed by June, September and August, respectively, to be the most dangerous months of the year in Indianapolis for driving. The day and time of the week when most fatal car accidents occur is Sunday evening and Monday morning. Saturday evening is also a very dangerous time to be on the road.
Most Dangerous Counties, Roads, and Intersections in Indianapolis
While any county, road or intersection can be dangerous and potentially deadly depending on certain circumstances, City-Data.com lists the following locations in and around Indianapolis, where the most deadly car accidents took place in 2013.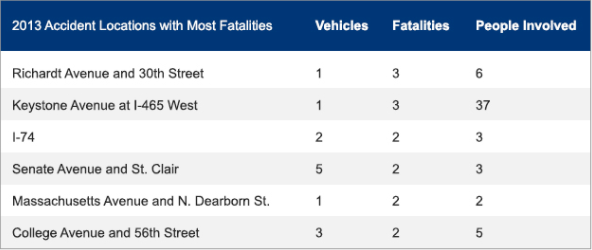 Other roads and dangerous intersections in Indianapolis where fatal accidents have occurred over the past five years include:

Why Seek Legal Representation Following an Indiana Car Accident
Anytime an individual is involved in a car accident, the type of collision, number of vehicles involved, where the accident took place, the speed at which the involved vehicles were traveling, and numerous other factors will determine the extent of his or her injuries. In certain situations, a single vehicle accident can cause as much damage and injury as an accident involving a large truck or multiple vehicles.
Not all accidents are caused by another driver's negligence. In some instances, an accident is simply an accident. In other cases, an accident may be caused by a faulty or defective product. If you believe another driver may be at fault for causing your injuries and loss, hiring a skilled Indianapolis car accident lawyer will significantly improve your chances of being able to determine cause and prove fault. This can allow you to pursue compensation from the driver responsible for causing your injuries, and help maximize the value of your injury claim.
Have you been injured in a car accident? Download your free e-book explaining what to do after an accident "The 10 Deadly Errors That Can Wreck Your Accident Claim". This valuable resource provides information to help strengthen and protect your claim.
To discuss your car accident options contact us online or call us directly at 800.278.9200.