In a collision with any kind of motor vehicle, a pedestrian is completely unprotected and susceptible to very serious injuries. The National Highway Traffic Safety Administration (NHTSA) reports the following facts about pedestrian accidents in 2013, the most recent year for which statistics are available:
Out of 32,719 total traffic fatalities, 4,735 (14 percent) were pedestrians.
An estimated 66,000 pedestrians were injured in traffic accidents.
73 percent of pedestrian deaths occurred in urban areas and 27 percent in rural areas.
69 percent of pedestrian accidents occurred at non-intersections and 20 percent at intersections.
Most pedestrian accidents (72 percent) happened in the dark.
The highest percentage of pedestrian accidents (26 percent) occurred from 6:00 to 8:59 p.m.
The lowest percentage (5 percent) occurred from 9:00 to 11:59 a.m.
The average age for pedestrian accident fatalities was 46.
The average age for pedestrian injuries was 36.
One-fifth of all children 14 years of age and younger killed in traffic accidents were pedestrians.
Nine percent of all children 10 to 14 years of age injured in traffic accidents were pedestrians.
Among pedestrians injured, 7,000 (10 percent) were 65 and older and 10,000 (15 percent) were 14 and younger.
Among pedestrian fatalities, 896 (19 percent) were 65 and older, and 236 (5 percent) were 14 and younger.
More than two-thirds (3,247) of those who died in pedestrian accidents were male.
92 percent of pedestrians who died were killed in accidents involving a single vehicle.
In Indiana alone, there were 77 pedestrian fatalities, comprising 9.8 percent of all traffic deaths.
Common Causes of Pedestrian Accidents
Drivers have a duty to exercise reasonable care, and failure to do so is negligence. Pedestrians also have a duty of care. However, when negligent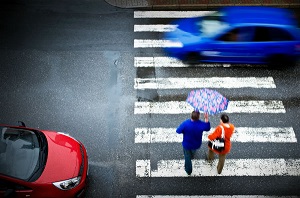 motorists operating 3,000 pound passenger vehicles hit unprotected pedestrians, it's typically not the motorist who suffers serious or catastrophic injuries or death.
Common factors that contribute to driver negligence in pedestrian accidents include:
Distracted driving. Drivers who are texting or talking on cell phones do not have their full attention on driving and are not exercising reasonable care. In a U.K. study commissioned by the Royal Automobile Club Foundation on the effects of text messaging on driver behavior, researchers determined that texting while driving reduces reaction time by 35 percent.
Alcohol-impaired driving. Out of 30,057 total fatal traffic crashes in the U.S. in 2013, alcohol impairment contributed to 9,158, according to NHTSA. Alcohol impairment— for either the driver or the pedestrian—was a contributing factor in 49 percent of pedestrian accident fatalities in 2013.
Speeding. The faster a vehicle is traveling, the less time the driver has to react and the greater the impact if the vehicle hits a pedestrian.
Failure to yield the right-of-way to pedestrians. Pedestrians crossing intersections when they have the right-of-way can be mowed down by turning drivers who fail to yield.
Failure to signal before turning. When a driver who is turning fails to signal, a pedestrian crossing the road has no warning and could walk right into the path of the turning vehicle.
Failure to obey traffic signals or signs. Motorists who run red lights or fail to stop at stop signs cause a terrible risk of injury to pedestrians who are crossing at intersections.
Common Injuries in Pedestrian Accidents
Pedestrians hit by automobiles are injured twice in the collision—first from the initial impact of the moving vehicle hitting the body, and again when the force of that impact propels the body into a solid object. For example, a pedestrian might sustain a fracture from the impact of the initial collision, and then a split second later, suffer a traumatic brain injury when his head hits the sidewalk where the force of the impact has flung him.
Common pedestrian accident injuries include:
Torn and sprained ligaments
Scalp lacerations, contusions, and abrasions
Contusions, abrasions, and lacerations of the face and hands
Fractures of the legs, ribs, arms, hips, and pelvis
Internal injuries
Legal Help for Victims of Pedestrian Accidents
If you've been hurt as a pedestrian by a negligent driver, consult with an experienced pedestrian accident lawyer as soon as possible. You may be entitled to significant compensation under Indiana state law. Attorney Randy Sevenish of the Sevenish Law Firm is a veteran Indianapolis car accident attorney with more than three decades of experience and a history of success in helping injured victims pursue the compensation they deserve.
When you meet with our firm and give us information about your accident, we'll immediately launch an investigation to determine what caused the accident and who should be held accountable. You may be entitled to compensation for your medical expenses, lost wages, scarring and disfigurement, pain and suffering, and more. Contact us to arrange for a free and confidential case consultation with absolutely no obligation.