When an individual makes the career decision to join law enforcement—whether with the Indiana State Police, the Indianapolis Metropolitan Police Department the County Sheriff's Department or another agency—he or she answers a call to enforce local laws and help keep the public safe.
The commitment police officers make is not one they take lightly. Law enforcement officers have very difficult jobs. Although individual officers in rare instances may make mistakes, police officers in general deserve utmost respect from the communities they serve.
Let us not forget that it is often police officers and other 
first responders
 who run directly into the face of danger. These dedicated officers deserve aggressive law enforcement legal representation to fight for their interests when they get hurt in the course of their job or in off-duty accidents.
Police Officers Have the Dangerous Duty of Keeping Society Safe
Despite recent controversies involving police in other parts of the country, the police officers in Indianapolis and throughout Indiana have dedicated their careers to public service and put their lives on the line for the residents of the communities they serve.
The challenging work these police officers do in the field day in and day out earns them our compassion and respect.
Having proudly served as a deputy with the Marion County Sheriff's Department, and a Captain, SWAT Team Founder and Commander, Drill Instructor and Officer Survival Instructor at the police academy, founding attorney Randall "Randy" Sevenish has first-hand experience with the day-to-day struggles police officers face.
He knows that it does not matter whether an officer is en route to the scene of an accident, entering a house to address a domestic violence call, or responding to an alleged hostage situation, at any moment that officer could face a potential life-and-death situation in which split-second decisions must be made.
"In countless scenarios, it is the officers' quick response and training that defuse a volatile and potentially deadly situation so that innocent lives are saved."
On-the-Job Risks Police Officers Face
Although most people are aware that police officers may encounter danger as part of their jobs, many people may not realize all of the on-the-job risks police officers face.
Even driving to the scene of an accident, conducting a routine patrol or issuing a ticket on the side of the road could prove deadly to a police officer. All it takes is one negligent, distracted or reckless driver, and an officer could wind up in the hospital with life-threatening or fatal injuries. In fact, vehicle crashes are one of the leading causes of both fatal and non-fatal injuries among police officers.
Assaults and shootings in traffic stops and other traffic-related activities account for 18 percent of fatal injuries to police officers.
The overall fatality rate for police officers is estimated at around 15 per 100,000 workers – almost quadruple the fatality rate of the average U.S. worker. The rate of occupational injuries experienced by police officers is thought to be between double and triple that of the average worker.
According to The Police Chief Magazine, while 38 percent of fatal injuries involving police officers result from assaults and shootings, 37 percent happen in vehicle-related accidents.
The most common non-fatal injuries sustained by police officers on the job are strains and sprains, especially to the back. Strains and sprains are also the injuries which lead to the most time lost from work.
Common Injuries Law Enforcement Personnel Face
People who enter the field of law enforcement are committing their lives to protecting others by enforcing the law, apprehending those engaged in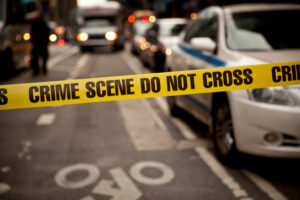 criminal activities, and preventing crime. Without law enforcement on duty 24/7 our society is at risk.
Law enforcement personnel deal with countless dangers each and every day in the performance of their sworn duties. According to the 2014 preliminary report of law enforcement officer fatalities, from the National Law Enforcement Officers Memorial Fund (NLEOMF), 126 officers lost their lives in the line of duty in 2014, a 24 percent increase from the prior year.
If you work in the field of law enforcement, it is important you make yourself aware of the common police injuries and accidents you are likely to face.
Firearm-Related Incidents
The NLEOMF reports that firearm-related incidents were the leading cause of death in 2014 among police officers and other law enforcement personnel. Fifty law enforcement personnel lost their lives last year as a result of a firearm-related incident. Non-fatal injuries from firearm-related accidents can include damage to internal organs, spinal cord trauma, brain injury, as well as injuries resulting in partial or total disability. Officers who are involved in gun-related incidents often suffer emotional or psychological trauma with long-term consequences.
Car Accidents
As is true with most first responders, law enforcement personnel face a serious risk of being injured in a car accident while in pursuit of a suspect, en route to a crime scene, during a traffic stop, or traveling to a reported collision. Police Chief Magazine reports that vehicle crashes are one of the leading causes of fatal injuries among law enforcement personnel. An estimated 37 percent of all law enforcement fatalities between 1997 and 2006 were caused by vehicle-related accidents. The most common non-fatal injuries in this type of accident are strains and sprains, with 42 percent of those being associated with back injuries.
Physical Assaults
Any time an officer attempts to make a traffic stop, question a suspect, or carry out an arrest, he or she is at risk of being injured or killed in a physical assault. In 2013, law enforcement officers were involved in 51,625 assaults, resulting in 100 deaths and 14,857 injuries. The most common injuries sustained in assaults include bruises, fractures, dislocated or broken bones, head trauma, and spinal cord injuries.
Exposure to Harmful Drugs, Toxins, or Disease
In the course of making an arrest or conducting an investigation, an officer may be inadvertently exposed to harmful drugs, toxins or disease. This type of exposure may result in rashes, chemical burns, internal injuries, infections, respiratory troubles, cancer, as well as other illnesses and conditions.
Heightened Stress Levels
Stress levels in the field of law enforcement run high. Officers often encounter extremely stressful situations throughout the course of their career. Witnessing a traumatic event, being forced into the position of having to shoot a suspect, suffering from the consequences of an assault, being involved in an accident, along with the emotional impact associated with these events, can lead to unbearable anxiety and stress. In some instances, stress can end up causing an individual to experience physical pain, as well as emotional or mental anguish.
Legal Help for Officers Injured in the Line of Duty
If you are a police officer who has been injured in the line of duty or while off duty, our firm is here to provide you with the legal assistance and support you need. You, your family and your recovery are what matter. We understand the stress and strain your job presents, and we are dedicated to helping you pursue the most favorable outcome to your case. Whether you are suffering from physical, mental or emotional damages related to your duties in law enforcement, we are here to serve you. Contact our Indianapolis at 317-720-3229.

To provide information about police officers' rights following an on-duty or off-duty accident, and how to protect those rights, our firm has gathered a collection of legal resources for law enforcement for you to review at your convenience.