The National Highway Traffic Safety Administration asked motorcyclists and motorists to prepare for summer by observing Motorcycle Safety Awareness Month in May. Now let's continue the safety awareness through the rest of the summer and take every step we can to avoid motorcycle accidents.
The NHTSA says motorcycles make up 3 percent of all registered vehicles in the U.S. but account for 14 percent of all fatal accidents occurring in traffic, 18 percent of all deaths in motor vehicle accidents, and 4 percent of all traffic accident injuries. Someone dies in a motorcycle accident 26 times more often than in a passenger car crash, and motorcyclists are nearly five times more likely to be injured in a wreck.
So revisiting a few tips about motorcycle safety is a good idea any time of year. The following come from the nonprofit Motorcycle Safety Foundation and the Indiana Bureau of Motor Vehicles:
Look for Motorcycles
Motorists need to understand that they share the road with about 200,000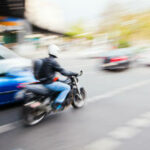 motorcycles in Indiana, and that motorcyclists have a right to be there. Motorcycles are harder to spot because they are smaller and narrower than other vehicles. Motorists should always check mirrors and blind spots at intersections and before entering or leaving a lane of traffic. Motorists and motorcyclists alike should always signal their intentions before changing lanes or merging with traffic.
Stand Out for Motorists
Motorcyclists can increase their visibility by wearing brightly colored riding gear and putting reflectors or reflective materials on their helmets and bikes. Burn your headlight night and day. Use hand signals for turning, slowing and stopping in addition to your motorcycle's electric signals. Stay out of cars' and trucks' blind spots.
Wear Protective Gear
The best protection you have in case of an accident is protective gear you wear, not any features of your motorcycle. You should always wear a DOT-approved motorcycle helmet. If you are younger than 17, you are required by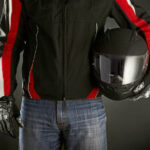 Indiana law to wear a motorcycle helmet while riding. Helmets protect motorcyclists from head and neck injuries in a crash and reduce the risk of traumatic brain injury by 67 percent. You should also wear eye and/or face protection, and abrasion-resistant jackets, pants and gloves, plus sturdy boots or shoes that cover the ankle.
Stay Back
Motorists and motorcyclists should maintain adequate distance from each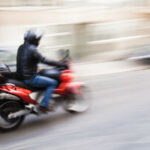 other to allow for response time in case of any unforeseen problems. Motorcyclists may position themselves in the left, center and right portions of a lane at various times as necessary to maximize visibility. Give them room. Never share lanes. Do not tailgate, either. Motorcycles stop much faster than cars because they are lighter.
Scan Ahead
Motorcyclists should watch about 12 seconds ahead of their position for other vehicles, road hazards and other potential problems. Vehicles that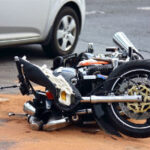 unexpectedly turn in front of a motorcycle or that enter the roadway from side roads or driveways are most likely to cause accidents. Vehicles parked along the road can be dangerous as well. Being "doored" – having a car door suddenly opened into a motorcyclist's path – causes many motorcycle accident injuries.
Be Ready to Ride Safely
Make sure you know how your bike operates and that it has been properly maintained. Be honest about your riding abilities. Don't ride in conditions you are not fully capable of handling (i.e., inclement weather, wet or sandy roads, high winds, uneven surfaces, etc.), and do not exceed a safe speed. Never ride after drinking or when you are fatigued or drowsy.
---
The Motorcycle Safety Foundation
says more than half of motorcycle accident fatalities involve another vehicle. In most cases, the driver of a car or truck driver is to blame.
Randall "Randy" Sevenish is a personal injury attorney who has been an avid motorcycle enthusiast and rider for nearly 40 years. He understands riders like you and what you go through after a motorcycle accident. He also understands motorcycle injury law.
To ensure that you obtain the insurance settlement you deserve after being injured in a motorcycle accident in Indiana, talk to Sevenish Law today about your accident and a potential legal claim.