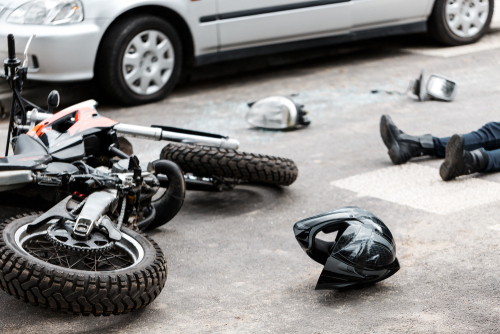 It's no secret that motorcycle riders are more vulnerable to serious injuries and even death when involved in accidents. With less protection than a car or truck, a motorcyclist can easily be thrown from their bike. We saw the trauma of these accidents in Evansville in October 2021. A motorcyclist had multiple fractures in his legs after getting in a crash at Columbia and 7th, per 14News.
If you or your family member was in a motorcycle accident, an Evansville motorcycle accident lawyer at Sevenish Law Firm, P.C. can review your situation and help you build a case for compensation. You may be able to recover damages for your medical bills, lost income, and pain and suffering, among other losses.
Damages You May Recover After an Evansville Motorcycle Accident
You could be entitled to the following damages after a motorcycle accident:
Medical Expenses
Hospital stays, follow-up doctors' appointments, ambulance transportation services, surgeries, testing procedures, rehabilitation, and more can all be very expensive. You may be able to seek all past and future medical expenses.
Past and Future Lost Income
If you couldn't go to work while you were in treatment for your injuries, you could recover lost income-related damages, such as:
Commissions
Tips
Salary
Hourly pay
Bonuses
Vacation time
Promotions
Business opportunities
If your injuries keep you from returning to work in the long term, you may claim damages for lost earning potential. Our attorneys can calculate the projected value of your lost earnings by consulting with experts and reviewing your employment records.
Pain and Suffering
Victims of motorcycle accidents can suffer serious injuries that can be physically, mentally, and emotionally damaging. The nature of your case will determine the amount of compensation you could receive for pain and suffering.
Property Damage
Your motorcycle and/or helmet could have been damaged or destroyed in the accident. In that case, you may be able to request compensation for these repair or replacement expenses.
Loss of Consortium
A family member can pursue these damages if the accident deprived them of the benefits of a familial relationship. Indiana does not cap how much one can pursue for loss of consortium in many cases.
Wrongful Death-Related Damages
The negligent party may have caused the death of your loved one. In that case, you may qualify for the resulting damages, such as medical bills, funeral expenses, and loss of inheritance or household services.
This is not a complete list of recoverable damages.
Indiana Law and Your Motorcycle Accident Case
Under IC § 34-11-2-4, the statute of limitations in Indiana generally allows no more than two years to file a personal injury lawsuit. The same timeframe applies to wrongful death cases. If you file either type of case after two years, you may not receive compensation.
However, you may qualify for an exception. For example, if the motorcycle rider is under 18 years old, the deadline may not start until the person reaches legal age.
Every motorcycle accident case is different. Understanding how the law applies to your case can be confusing and, quite often, overwhelming. We are here to help take the guesswork out of the process.
How a Motorcycle Accident Lawyer with Our Firm Can Help You in Evansville, IN
Some motorcycle accident victims feel that they can take on the process of a personal injury claim on their own. This method of representation is called "pro se." In many pro se cases, claimants waste time, money, and energy due to inexperience.
Our law firm has over 35 years of experience in personal injury law, and it is all we do, so you may want to consider enlisting our legal services. While you put your time and energy into your recovery, our firm can work on your case. This job will involve:
Collecting relevant documents and evidence to create a case file
Determining whose negligence caused your motorcycle accident
Assigning a value to your injury case
Managing communications with those involved in your case
Negotiating a settlement on your behalf
Preparing your case for trial if we cannot settle
Our help will be available to you on a contingency-fee basis, so you won't pay our firm a dime unless and until your lawyer secures a financial recovery for you. There is no financial risk involved when you have Sevenish Law Firm, P.C. on your side.
We Can Develop a Case To Prove the Other Party Was Negligent
Once you hire our firm, we will evaluate the circumstances of your accident. Then, we can build a case showing that the other party's negligence caused your injuries. To prove negligence in a motorcycle accident case, you must show:
Duty of care: The other party owed you a duty of care. For instance, all motorists have a duty of care to follow traffic laws and respect others' safety.
Breach of duty: The other party violated their duty of care. One breaches their duty of care by acting carelessly or recklessly. A motorist who drives while intoxicated breaches their duty of care, for example.
Causation: The other party's actions caused your injuries. We can use traffic camera footage, witnesses' testimony, and other information to support your accident's cause.
Damages: Finally, we must assert that you suffered both monetary and non-monetary damages because of the collision.
Our team will work tirelessly to build a solid case against the other party.
Commonalities of Motorcycle Accidents in Evansville, IN
Motorcycle accidents can happen anytime, anyplace, and involve any rider. Some common traffic accidents involving motorcycles are caused by:
Tailgating: Another vehicle followed a motorcyclist too closely.
Failed to yield the right-of-way: The vehicle did not yield the right-of-way to a motorcycle rider.
Passing: The other vehicle attempted to "share" the lane or pass the motorcycle too closely.
Deliberate action: The vehicle driver intentionally intimidated the motorcycle rider.
Blind spots: The driver of the vehicle did not see the motorcycle rider and avoided the accident.
Defective parts: The brakes, tires, or gears malfunctioned, causing the crash.
Poor road conditions: The accident happened because the road was not properly maintained.
Sevenish Law Firm, P.C. understands the physics and dynamics of motorcycle riding and is familiar with the conditions that can lead to an accident. After all, our founding attorney, Randall "Randy" Sevenish, is an ardent motorcycle enthusiast. He is a "Real Motorcycle Lawyer and Real Rider©," and his firm is dedicated to motorcyclists and earned their trust.
Common Injuries in Motorcycle Accidents
Motorcycles lack the protective equipment that typical cars or trucks have. This lack of protection can result in grievous injuries, such as:
Internal Injuries
Spinal cord injuries
Bone breaks and fractures
Lacerations
Road rash
Our attorneys have handled many motorcycle accident cases and have seen the lifelong impacts these injuries can cause. We are determined to hold the liable party accountable, so you can move on after such a traumatic incident.
What To Do After a Motorcycle Accident in Evansville, Indiana
After a motorcycle accident, there are some considerations that could bolster your case. We recommend taking these steps to protect your right to damages:
Request a Copy of the Accident Report
Law enforcement should have given you a case number. You can use this number to request a copy of the accident report, which reflects the details of your collision. We encourage you to check the police report for accuracy.
After all, even police officers make mistakes. You want to ensure all information is accurate before proceeding with a claim or lawsuit. If you cannot request a copy of the accident report on your own, that's okay; our team can request a copy from the Evansville Police Department.
Keep All Information Related to Your Case
Photos, videos, and other documentation from the accident can support your case. We also recommend writing down the names and contact information of anyone who saw your accident happen. This could include the attending police officer's name or that of bystanders.
Begin a Free Case Review with Our Indiana Legal Team
Sevenish Law Firm, P.C. offers free case reviews to all injured claimants in Indiana. During our conversation, we can discuss the details of your case, including what happened before, during, and afterward. You can also get answers to some of your most pressing questions, including how much it costs to partner with our team.
Our Client Testimonials Speak to Our Success and Dedication
We represent clients who are wrongfully injured in motorcycle accidents, and we are proud of our results.
Here's what some of our past clients expressed about working with us:
"After getting in a motorcycle wreck in July, Sevenish Law was recommended to me to represent my boyfriend and I… Couldn't imagine going through all of this with anyone else representing us! Thank you a million times over Sevenish Law!" – Joey S.
"I would not be where I am today without Sevenish. Without them I would have got NOTHING. Instead I now have a 6 Figure check. Make sure you use the right firm. The staff treats you like family. They are best of the best…" – James G.
You can expect us to give your case the same time and attention we've given these clients and others. Our firm is ready to pursue the damages you need to move forward.
Reach Out to Sevenish Law Firm, P.C. Today
If you were hurt in a motorcycle accident in Evansville, IN, you don't have to go through the legal system alone. Connect with Sevenish Law Firm, P.C. today to learn more about your options. The first call is free, and there's no obligation.