It can be dangerous for an adult or child to ride a bicycle near or with the flow of traffic on Indiana roads. Even if protected by a helmet, a bicyclist hit by a car in Indianapolis can suffer serious and potentially deadly brain and spine injuries.
In many cases, these crashes are caused by the vehicle driver's negligent, reckless or intentional acts. If you have been injured in a crash while you were biking or lost a loved one in a bike accident, you may be eligible for compensation.
Sevenish Law Firm is here to help you. Randall "Randy" Sevenish is a veteran personal injury lawyer with a passion for protecting those who have been harmed by others. His experience can make a difference in your recovery. He is a "Real Bicycle Lawyer & Real Cyclist©." He has literally been a cyclist his entire life, especially during his adult life.
Randy and Sevenish Law are known advocates for Bicyclists in Indiana and remain active supporters and/or corporate sponsors of Bicycle Indiana, INDYCOG, CIBA (Central Indiana Bicycling Association), The League of American Bicyclists and others.
Further, Randy and his firm have sponsored numerous events for cyclists, including Ride to Work Day for the City of Indianapolis. He is a regular speaker at bicycle clubs on legal issues of cyclists and actively engages the public, especially in educating non-cyclist drivers of motor vehicles on topics such as "The Etiquette of Sharing the Road with Bicycles", "The 3-foot Rule" and others.
Randy is actively engaged jointly with BicycleIndiana.org for purposes of approaching law enforcement and Indiana's lawmakers to propose and to support pro-cyclist legislation, which will be good not only for the cyclist but for the non-cyclist motor vehicle driver as well. Both cyclists and non-cyclists need to be on the same sheet of music in order to be able to safely "Share the Road".
So when injured in any type of bicycle-related crash it is to your advantage to consult with a "Real Bicycle Lawyer & Real Cyclist©" — one who actively cycles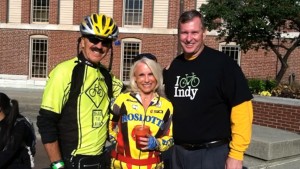 , knows and understands bicycle injury law and one who has a long history of advocating on behalf of cyclists rights to this day.
"In 1998, my wife Regina (Business Administrator of Sevenish Law) was diagnosed with systemic lupus and had to undergo chemotherapy and nearly died. Bicycling literally saved her life and put her back on the path of health. In result of her efforts and cycling she has been in remission ever since! Because of that I feel I have a duty to advocate not only the safety aspects of cycling but the health related benefits as well!" …….Randy Sevenish
Please review the following general information about bicycle accidents in Indianapolis and throughout Indiana. If injured in a bicycle accident, please contact one of our Indianapolis bicycle accident lawyers today.
Causes of Indianapolis Bicycle Accidents
Drivers of cars and trucks often cause collisions with bicyclists. The underlying causes may be:
Lack of attention
Distracted driving
Speeding
Illegal turns
Running through a red light or stop sign
Opening a car door without seeing the approaching bicyclist
Failing to exercise due care in a school zone
Common Bicycle Accident Injuries
Here's a brief look at some common injuries when a bicyclist and vehicle collide:
Head injuries. Any type of traumatic brain injury can cause permanent disabilities, and even people who suffer a minor concussion can experience chronic headaches.
Road rash. This is a common but less serious injury that occurs when a bicyclist falls and skids across pavement or cement. Exposed skin rips off, and gravel and dirt can become lodged in the resulting open wounds. This may lead to infection, and the healing process for road rash can be long and painful.
Broken bones. During a fall, any body part that comes in contact with the road can break. It's common for bicyclists to experience wrist and arm fractures, a broken pelvis, or a broken hip bone.
Dislocated shoulder. When cyclists try to brace themselves during a fall, it's common for them to dislocate a shoulder. While it's fairly easy to remedy the dislocation, this injury can later cause chronic shoulder pain and problems with movement and functioning.
Spinal cord damage. It's not unusual for a cyclist to experience damage to the spinal cord during an accident. If there's a vertebrae fracture, or the vertebrae is severed, the rider could face severe or permanent disability.
Knee injuries. In a cycling accident, the rider often experiences knee injuries. A common injury is to the anterior cruciate ligament (ACL) — the ligament that provides stability and runs through the middle of the knee. This type of injury can be a sprain or tear when the cyclist falls after a crash and lands forward on the pavement, and it can also occur when the knee is twisted during the accident.
Types of Bike Accidents
Particularly for those cyclists who ride in the street, the risk of a collision with a vehicle is high. The primary danger lies in the lack of protection the cyclist has if he experiences a crash.
Common bicycle accidents include:
The right cross. This type of accident occurs when a cyclist has passed in front of a motor vehicle waiting to exit from an alley, driveway, or parking lot. If the vehicle pulls out and turns right too soon, it can hit the cyclist. An accident can also happen if the car pulls out at the last second and blocks the cyclist's path, causing the cyclist to collide with the car. The driver could be found negligent because he failed to yield to the rider's right-of-way.
The door prize. This type of accident happens when the driver of a parked car opens the door directly in the path of an oncoming cyclist. There isn't enough time for the cyclist to move out of the way or stop to avoid a collision. It's possible to file a negligence claim based on the driver's failure to pay attention and avoid a collision because he violated the cyclist's right-of-way.
The rear end. This type of collision is a common way that intoxicated drivers hurt or kill people on bikes. Because drivers don't always travel at a safe distance from cyclists, they can easily cause a rear-end collision. It's important that drivers be extra observant and maintain a safe distance when they're passing a bike.
The left cross. This type of accident happens when a car and a cyclist approach an intersection, each coming from the opposite direction, and the driver turns left in front of the cyclist and hits him. The driver could be considered negligent for not yielding the right of way.
4 Safety Tips for Sharing the Road with Bicyclists In Indianapolis
In some instances, a vehicle driver may fail to respect the bicyclist's right to share the road. The driver may:
Follow the bicycle too closely
Make a dangerously close pass
Fail to signal a turn while in front of the bicycle
Intentionally "buzz" the bicyclist or run the bike off the road
However, it is not always vehicle drivers who are the cause of crashes. Often, crashes result from poor road conditions such as potholes, cracks in sidewalks, deteriorating shoulders or uneven pavement.
Indianapolis Bicycle Accident Compensation
Our Indianapolis bicycle accident lawyers strive to visit the scene of a bicycle accident as soon as possible. This is why we urge cyclists who have been in an accident to contact us immediately if they are able to do so. This will allow us to launch an investigation while the accident scene is still fresh.
Once we have established the cause of a crash, we can determine who can be held liable for your losses and execute a strategy for recovering compensation.
Often, the vehicle driver should be held liable. Compensation can be sought by turning to the driver's liability insurance coverage. If the driver was working at the time, the driver's employer may be liable as well.
In some instances, an injured bicyclist may seek to recover through his or her own uninsured motorist (UM) or underinsured motorist (UIM) policy. These are optional types of insurance coverage that may or may not have been purchased. If the coverage is available, it can be used in a bike accident claim.
UM covers losses when the at-fault party lacks liability insurance or when a bicyclist is injured by a hit-and-run driver – a situation that is very common.
UIM kicks in when the at-fault party's insurance fails to cover the full amount of a victim's losses. Given that medical expenses for even minor injuries can be very high, and that many drivers only purchase minimum required amounts of liability coverage, the need to use UIM coverage is also very common.
Keep in mind: If the claim is brought against a government entity, it would be subject to the Indiana Tort Claims Act. The timeline for taking legal action would be sped up considerably, and a recovery could be barred if a bicyclist is found to be even one percent at fault for causing the crash.
Contact Us
No bicycle accident victim should bear medical expenses, lost income, pain and suffering and other losses on his or her own. Instead, allow our experienced Indianapolis bicycle accident lawyers to protect your rights and aggressively pursue compensation for you.
So if you have been injured in any type of bicycle-related crash it is to your advantage to consult with a "Real Bicycle Lawyer & Real Cyclist©" – one who actively cycles, knows and understands bicycle injury law and is a known and avid advocate for cyclists not only in the Greater Indianapolis area but throughout Indiana as well.
If you have been hurt or lost a loved one in a bicycle-vehicle collision in Indianapolis or elsewhere in Indiana, we can get to work for you right away. Simply call our Indianapolis personal injury law firm or contact us online for a free consultation.