Under Indiana law, any driver involved in a car accident is required to stop and render aid. A failure to do so is a crime. Unfortunately, some drivers, after colliding with another vehicle or a pedestrian, speed off, hoping to avoid legal consequences. In some cases, these drivers were under the influence of alcohol or drugs. The actions of a hit and run driver can make a tragic situation worse, particularly when immediate medical attention is required to save a life. A person can be left injured and emergency services are not called until it is too late.
If you are hit by a hit and run driver, follow these steps to protect your right to compensation from your own insurance company.
Assess yourself and your passengers and check for any injuries.
Call 911 for emergency services and to summon the police.
Note the make of the vehicle, color, and any portion of the license plate number you can recall.
Get the names, phone numbers and addresses of any eyewitnesses.
Get a full medical assessment and any needed treatment.
Call your insurance company. Alert them that you have been involved in a hit and run accident.
Get a lawyer.
If involved in a hit and run accident make sure to contact an experienced Indianapolis car accident lawyer.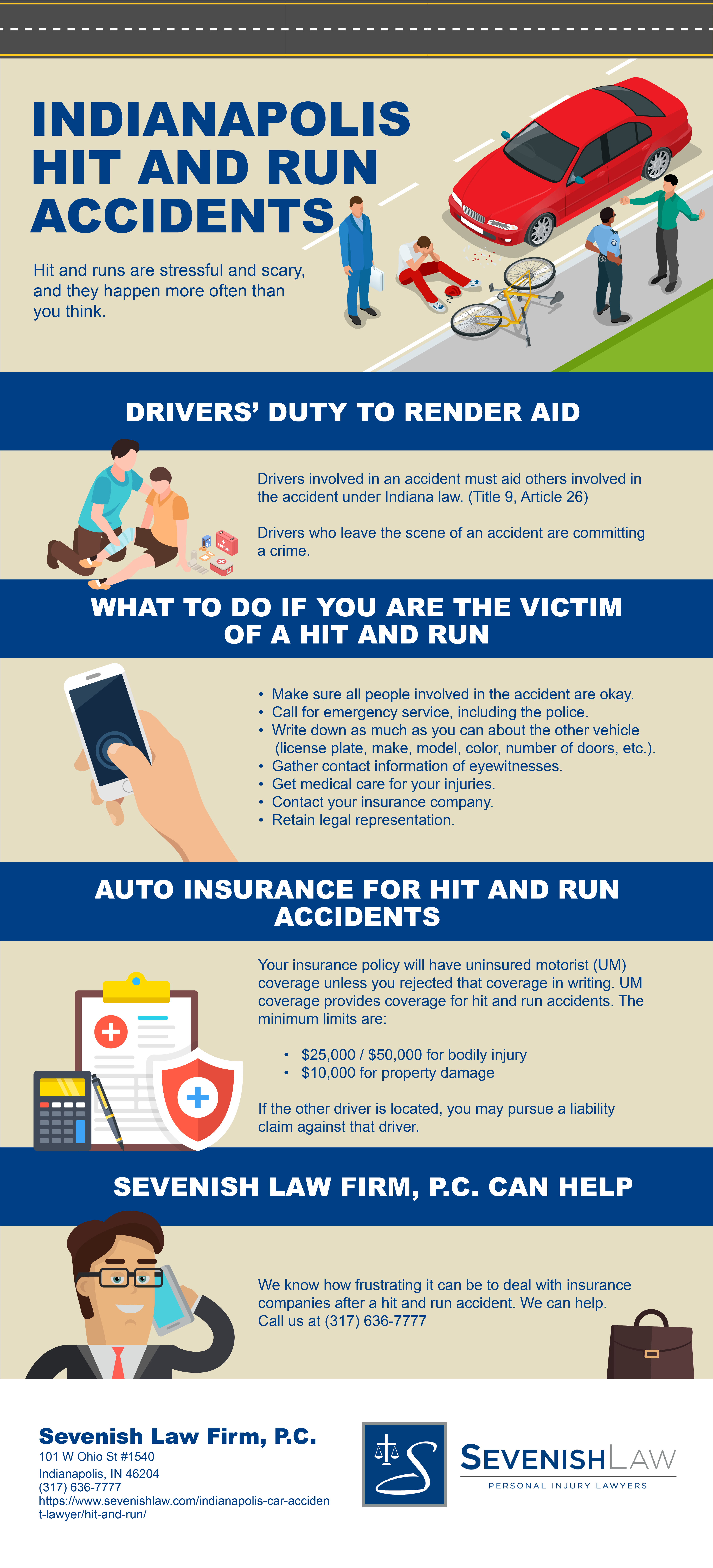 Your Right to Compensation and Your Auto Insurance Policy
Under state law, all drivers are required to carry auto insurance. Every new policy is required to include uninsured or underinsured motorist coverage, unless you have rejected the offer in writing. This form of insurance allows you to collect compensation from your own policy if you are injured by a hit and run driver. The minimum limits are $25,000/$50,000 for bodily injury, $10,000 for property damage, and underinsured motorist coverage for bodily injury at $50,000.
Hit and Run Accident Statistics in Indiana: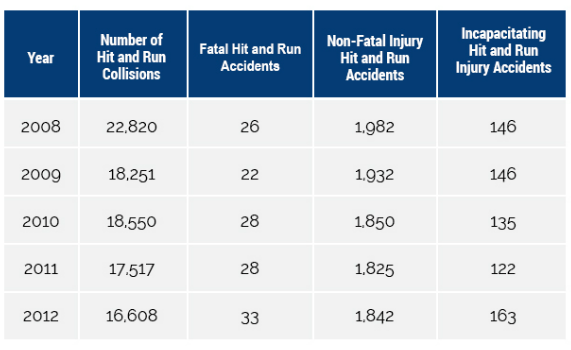 There are frightening numbers of hit and run accidents in Indiana, many of which occur in Indianapolis. The most recent report from the Indiana Criminal Justice Institute revealed the extent of the problem, and the upsurge of incapacitating injury accidents caused by a hit and run driver:
You may assume that your own insurance company will simply pay you a fair settlement if you or a loved one was injured or killed by a hit and run driver. However, It can come as a shock to find out the amount your own auto insurance company offers you as a settlement. Do you know the limits of your policy, or what you are actually due in compensation under its terms? An insurance company representative may not offer you all the information you need to know. You may also find yourself being shifted from one agent to another, each giving you different information.
The process can be frustrating, confusing and depressing. At the Sevenish Law Firm, we are very familiar with the tactics employed by insurance companies to reduce the monetary value of settlements. Our goal is to help you to recover the maximum possible under the terms of your policy. We fully understand all the legal language in the small print. If your own insurance company is treating you unfairly, we hold them accountable by filing an insurance bad faith claim. In a great number of insurance bad faith cases, the court will order the insurance company to pay all legal fees in these cases. If you are a victim of a hit and run accident in Indianapolis, please contact one of our car accident lawyers today.