Slip and fall injuries are the most common cases that arise under Indiana's premises liability law. Slip and fall accidents cover any case in which a foreign object or hazardous condition underfoot causes someone to fall and suffer injury.
A slip and fall can be caused by broken pavement, poor floor maintenance, improper signage, lack of hazardous condition warnings, a torn carpet, liquids spilled on the floor, obstructive objects, or any number of other conditions. Many people think of icy sidewalks when they hear the phrase "slip and fall," and in an Indiana winter, ice, and snow on a premises and sidewalks may certainly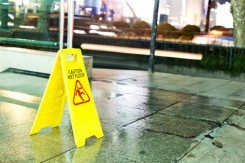 pose a hazard to pedestrians.
However, according to the National Floor Safety Institute, grocery stores are the most common scene of slip and fall accidents. Grocery shoppers can slip on foods or liquids spilled into the aisles; trip over dangerously-stacked displays; or slip on ice, water, or snow in the frozen-foods aisle or in the doorway.
Other common sites of slip and fall injuries include:
Restaurants
Hotels
Hospitals
Apartment or condominium buildings
Parking lots and sidewalks
An Indiana falling accident can occur on any property, and any slip and fall accident has the potential to result in injury making it important to seek the counsel of an Indianapolis slip and fall lawyer.
Slip and Fall Incident Report
If you have a slip and fall accident on a business or public property, the property owner may want you to fill out an incident report and possibly sign a waiver. Incident reports can be helpful if you decide to file a claim against the store. However, you may want to consult with your Indianapolis slip and fall attorney before doing so.
Incident reports offer a chance to write down the details of your accident immediately, and this is something that you can choose to do on your own as well. Including a description of what you slipped on, whether you noticed it before you slipped, the lighting in the store, and any other details about your fall, can all help preserve details and build a slip and fall case. If you fall at a private residence, write down as many details as you can remember immediately after the fall.
If the property owner asks you to sign anything, read it carefully. Do not sign any paper that appears to give up or take away any of your legal rights. Injuries from a slip and fall accident in Indiana can take time to develop fully. Until you know the extent of your injuries and have consulted with an experienced Indiana premises liability lawyer, you should not make any promises to the property owner nor agree to give up any rights.
After a slip and fall, it's not unusual to hear others, especially property owners, trying to blame you for the fall. Don't let naysayers talk you out of consulting an experienced Indianapolis slip and fall lawyer. He or she can give you a clear picture of the circumstances surrounding your fall.
Contact Our Indianapolis Slip and Fall Lawyers Today
Randy Sevenish and the legal team at Sevenish Law Firm have committed their practice to the aggressive and thorough representation of Indiana personal injury accident victims. At Sevenish Law Firm, our Indianapolis slip and fall lawyers understand how disruptive and challenging a slip and fall injury can be. That's why we seek the maximum compensation available to each of our clients.
We combine our passionate dedication to our clients with a strong commitment to honest and ethical legal practice. We will help you understand the unique elements of your case and protect your rights at all times. Contact us today!