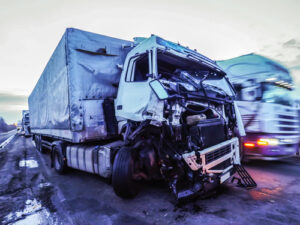 Hundreds of trucks travel in and out of Indianapolis every day – especially since its Amazon distribution centers sprang into action. Combined with commuters, rideshare drivers, and public transportation, Indianapolis's streets are packed. However, that's no excuse for reckless or careless driving.
If you suffered harm in a truck accident, Sevenish Law Firm, P.C. is ready to pursue compensation. We understand that major truck accidents can create expensive medical bills and other related expenses. Our Indianapolis truck accident lawyer is ready to serve you.
We Seek Compensation for Indianapolis Truck Accident Claimants
We're ready to pursue these losses on your behalf:
Current medical bills, including surgery, hospitalizations, doctors' visits, and medications
Future medical bills, such as rehabilitative therapy (i.e., speech therapy, cognitive therapy, physical therapy, psychological therapy, etc.)
Lost wages if your truck accident injuries keep you from working
Reduced earning capacity, if your injuries prevent you from returning to work or working in the same capacity as you did before the accident
Pain and suffering, including physical and emotional anguish
Burial and funeral costs, if you lost a loved one in a truck accident
Loss of consortium for the emotional support your late loved one provided
Loss of inheritance for the income your lost loved one would have contributed
To recover compensation after a truck accident in Indiana, it is crucial to begin an immediate investigation. Otherwise, important evidence could be lost or destroyed. That is why Sevenish Law Firm, P.C. encourages prompt legal action.
We're Ready to Hold the Negligent Party Financially Accountable
Many truck drivers are honest, hardworking people who obey the rules of the road and adhere to state and federal regulations. However, some truckers and trucking companies violate the rules and cause serious damage. When this happens, you can work with a truck accident attorney from our firm to seek fair compensation.
We Will Determine the Cause of Your Accident
The latest information from the Federal Motor Carrier Safety Administration (FMCSA) reports that most truck accidents stem from fatigue, intoxication, and speeding. While a trucker may have caused your accident, liability could rest with their employer.
For instance, a trucking company may be negligent when it fails to:
Check a driver's background, including prior traffic or criminal violations, before hiring the individual
Train and supervise its crew of drivers, which promotes safe driving practices
Conduct mandatory routine inspections of the semi-trucks and trailers in its fleet
Impose reasonable delivery schedules, which give drivers ample time to make deliveries without violating the FMCSA's Hours of Service Regulations
Sevenish Law Firm, P.C. has no problem going up against large corporations. To negotiate a fair settlement, we will gather your case's information, interview witnesses, and consult accident reconstruction specialists. If the trucking company refuses to settle, we'll file a lawsuit.
Negligent Hiring Practices Among Trucking Companies
The FMCSA requires trucking companies to thoroughly vet drivers during the hiring process to ensure that they're properly qualified to operate large—and potentially deadly—commercial vehicles. Trucking companies' hiring best practices should confirm drivers have a valid commercial driver's license (CDL), clean driving and criminal records, and no health conditions that could make them a hazard to others on the road.
If a trucking company hires an unqualified driver who later causes a serious truck accident, the company could potentially be held liable for damages that arise from the driver's unsafe conduct.
Insufficient Training
Trucking companies are also required to provide commercial drivers with the training they need to operate their vehicles safely. However, demanding delivery deadlines and a shortage of qualified drivers may cause some companies to rush inexperienced drivers through bare-bones training courses or skip driver training altogether.
Unreasonable Driver Schedules and Expectations
Trucking company profits depend largely on their drivers' abilities to adhere to demanding pickup and delivery schedules. Companies that offer incentives or bonuses to drivers who make deliveries ahead of schedule may be unknowingly (or even knowingly) encouraging their drivers to violate the FMCSA's hours-of-service regulations, which limit how long a driver can work per shift and week, and mandates break and rest periods.
Poorly Maintained Vehicles
FMCSA regulations require commercial drivers to thoroughly inspect their vehicles at the beginning and end of each shift and have any issues repaired promptly. Trucking companies are also expected to use staff or third-party contractors to perform regular vehicle inspections and repair any discovered maintenance issues before the truck goes back out on the road.
Unfortunately, unrealistic pickup and delivery schedules may cause some drivers to cut corners, skipping the required pre- and post-shift vehicle inspections. Trucking company representatives may also skip mandated vehicle inspections in the interest of completing pickup and delivery schedules faster. Even if a driver reports a maintenance issue, or the trucking company discovers a problem during one of its inspections, there's no guarantee the truck will be taken out of service so the issue can be repaired in a timely fashion.
Inadequate Supervision
In the interest of safety, employers have a duty to supervise their drivers once they're hired and trained. When companies fail to screen drivers for drug and alcohol use both before and during employment, or turn a blind eye to drivers who have alcohol or substance abuse problems, they endanger everyone on the road.
Employers are also responsible for supervising their drivers to ensure their compliance with FMCSA regulations, such as hours-of-service and log-keeping requirements. Companies that fail to adequately supervise their drivers could potentially be held liable for damages that occur as a result of supervisory negligence.
How Our Team Will Guide Your Case Toward a Fair Resolution in Indiana
When we take on your case, we can help you by:
Gathering Supporting Evidence
Evidence is crucial to establishing negligence. Without it, proving your case may be difficult. We may find and use the following information:
The truck's black box data. These devices collect data during accidents, including the truck's force of impact, speed, and driving time.
Video footage. Many intersections have traffic cameras. Similarly, many commercial trucks have dashcams. We can use these recordings to prove what happened before, during, and after your accident.
The police report. As a former SWAT team captain, Attorney Randy Sevenish knows the importance of an accident report. He can use this document's information to learn more about your case.
We will also review photos of the accident scene, interview witnesses, and use forensic evidence to demonstrate your collision's cause.
Calculating Your Damages' Total Value
We want you to recover the full cost of your past, present, and future losses. This involves reviewing your injury-related bills, receipts, and invoices. To determine the value of your non-economic damages (such as pain and suffering), we will review:
Your condition's severity and its impact on your life
The cost of your financial losses
Your missed time from work
Your ability to care for minor children and pursue your hobbies
Your mobility and quality of life
Indiana doesn't cap how much you can seek for non-economic damages in truck accident cases. Our Indianapolis truck accident team can explain more when you call us today.
Filing Your Insurance Claim
Recovering compensation generally begins with filing an insurance claim. This requires us to send the liable party a "demand letter." This document outlines your accident's cause, the severity of your condition, and the amount you're requesting.
In many cases, after receiving this letter, the insurance company is open to negotiations. Here, we can work out an agreement that suits both parties. If not, we will file a lawsuit in civil court. You generally have two years from your collision's date to do this, per IC § 34-11-2-4.
Representing Your Case at Trial
If insurance negotiations don't succeed, we will file a personal injury or wrongful death lawsuit to seek a fair court-awarded offer. When we take legal action on your behalf, we will:
Handle all of the paperwork associated with going to court
Represent you before a judge and jury
Abide by all necessary deadlines
Present the cost of your present and future truck accident-related losses
Protect your legal rights
Communicate with the other party's legal team
Keep you updated on your case's progression
Interview witnesses
Connect with Our Truck Accident Team Serving Marion County
Our founding partner, Attorney Randy Sevenish, is a former police officer. During that time, he saw how serious truck collisions can be. He also never backs down from a challenge, especially when a client's health and financial security are at stake.
If you were injured or lost a family member in a collision, you can count on Sevenish Law Firm, P.C. to seek justice. We will manage your case at no upfront cost, and you only pay our attorney's fees once your case concludes.
Begin your free case review by calling 317-720-3229.